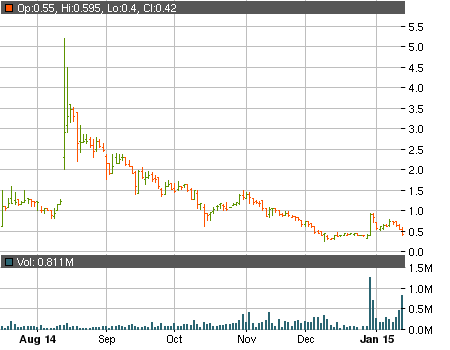 The stock of Changing Technologies, Inc. (OTCBB:CHGT, CHGT message board) managed to slide an impressive 44% down the charts in just four sessions. Yesterday CHGT sank another 23% to a close of $0.42 per share.
We have been monitoring CHGT's latest moves and the peculiar background of the company as a whole for a while now. In our previous articles we examined the company's business plan, which seems to be mostly based on the success of other, much larger corporations and not its own resources and performance. We also took a brief look at the company's shared, virtual office space, which costs thirty dollars per month.
Other items of interest connected to CHGT include the fact that the company intends to launch expensive-looking retail kiosks, each equipped with its own 3D printer, yet all the current assets CHGT has to its name comprise of $26 thousand. The kiosks are, of course, nothing more than beautiful 3D renders at this point in time.
The red flags about this operation stretch further - all executives at CHGT have no written employment contracts with the company, the latest financial report speaks of CHGT as a company that develops productivity and wellness apps, not 3D printing solutions. The $26 thousand the company has in the bank differs dramatically from the pomp with which CHGT delivers its press announcements, throwing around the names of huge corporations such as Target and Hewlett-Packard.
The company's board of directors, the body of people who should look out for the interest of investors and exert some level of control over how executives run things, comprises solely of Mr. Omar Durham, who is also CEO and CFO.
Investors may also find it interesting that a recent article published by Mr. Andrew Wheeler on 3D Printing Industry – probably the leading website exclusively dealing with the 3D printing sector – goes to call CHGT a "complete fraud". Combined with the increasingly heavy dumping that has been going on over the past three sessions, the other red flags surrounding CHGT should at least give traders some pause and make them do their own research on the company before taking any further steps.