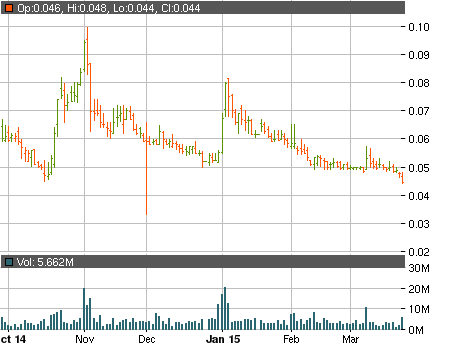 Yesterday the stock of Cannabis Science Inc (OTCMKTS:CBIS, CBIS message board) took another hit and after wiping nearly 7% of its price closed at $0.0445. This is the lowest close registered by the company since the start of 2014. The number of shares sold throughout the session surpassed the volume from the previous day by more than 3 times and reached 6.8 million shares.
CBIS were supposed to unveil their first products during the Spannabis conference that took place from March 20 to March 22 in Spain. Yesterday the company finally issued a PR about the conference talking about "strong customer interest" towards their products. As you can see from the chart the news did little to boost investors' confidence in the stock. And investors certainly have quite a few reasons to be cautious when approaching CBIS.
Despite being in its current business for 6 years now the financial results of the company are nothing short of depressing. The latest quarterly report revealed that at the end of September, 2014, CBIS had:
• $443 thousand cash
• $782 thousand total current assets
• $4.1 million total current liabilities
• ZERO revenue
• $675 thousand net loss
• $100 million accumulated deficit since inception
On March 18 CBIS hired Cohen Grassroots Research, Inc. to initiate intricate analytical coverage of the company. As a result a 115-page research report was published and according to it the amount of revenues generated by CBIS will grow from $0.1 million to over $64 million in just 5 years. That is a rather bold prediction for a company that for the first nine months of 2014 reported exactly $1031 in revenues but it becomes less surprising when you find out that Cohen received 3,500,000 shares of Rule 144 common stock and $2,500 as compensation for their services.
The red flags around CBIS run far deeper than their financials though. In our previous articles we have often warned you that insiders of the company receive millions of free-trading shares as bonuses under the company's stock compensation plans. Well, just two days ago another S-8 registration statement was submitted this time for 50 million shares priced at $0.0504. At the same time officers of the company are continuing to sell their shares on the open market. The latest Form 4 revealed that Mr. Chad Stevens, COO of CBIS, sold nearly 690 thousand shares on March 18 and another 570 thousand shares on March 19. It is up to you to interpret the fact that the Chief Operating Officer decided to dump over a million shares right before the company unveiled its products.
CBIS should submit their annual report for the fiscal 2014 by the end of the month and if it shows the same depressing picture the stock could drop even lower. Any trades involving the ticker should be preceded by extensive due diligence.