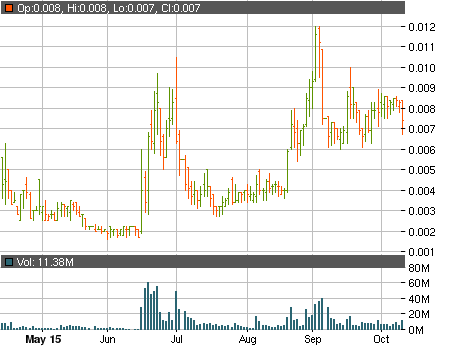 Despite the shaky performance of One World Holdings Inc (OTCMKTS:OWOO, OWOO message board)'s stock we see that the ticker is sitting higher from where it was in the beginning of the year. This month started rather slowly and OWOO wasn't making big percentile movements, going sideways below the 1 cent per share mark.
This is quite surprising when you consider the numerous red flags that are plaguing the company. For starters, the financial situation at OWOO was quite ugly when the finished the second quarter of the year. The financial report covering the period has the following numbers contained in its balance sheet.
cash: ZERO!!!
current assets: $608 thousand
current liabilities: $24.9 MILLION
quarterly sales: $833
quarterly net loss: $8 MILLION
The company is selling its Prettie Girls! Tween Scene Doll collection in Walmart and this is where most of the hype comes from. The latest news from earlier today inform us of another order that was placed with the company, but still, this might not be enough to offset the other factors that have cast a shadow on the company stock.
One of them is the massive dilution that the company stock and its shareholders have experienced. Said dilution was so big that in the start of 2014 the company was forced to exercise a 1 for 750 reverse split. Since then, however, we have seen a massive amount of newly issued shares see the light of day at huge discounts.
In light of all this, the 10.84% drop that OWOO experienced yesterday wasn't that surprising. The fact that the ticker is already 8.11% in the red in today's trading isn't much of a surprise either. Considering the impressive amount of shares that are being traded we might see OWOO drop even further down the charts, so be sure to do your due diligence and weigh out the risks before putting any money on the line.