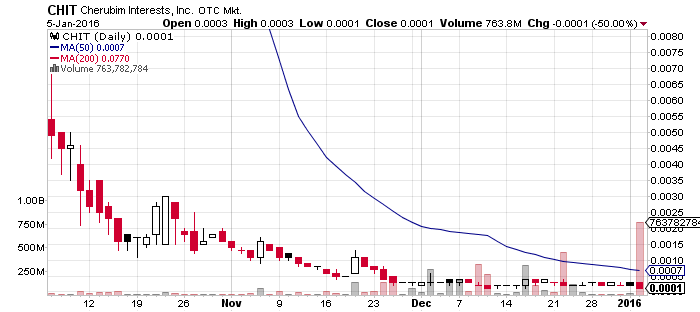 In yesterday's session Cherubim Interests Inc (OTCMKTS:CHIT, CHIT message board) fell flat on its face and slid back to rock bottom at $0.0001 on a massive volume spike. The 50% drop took place on 763 million shares changing hands.
There really is precious little to be surprised about here, considering the hole that CHIT dug itself in over 2015. The first and most important factor here is dilution. Back in late July 2015 the company had 58.6 million outstanding common shares. By Aug 31 that number was up at 125 million.
In mid-October the company upped its authorized shares to a mind-boggling 5 BILLION. A little scary given the company had just 0.1 billion OS not two months ago, isn't it? It actually is, especially considering what CHIT did by the end of calendar 2015.
A Schedule 13-G published on Dec 30 reveals that a certain DTS Partners LLC holds a massive 200,000,000 CHIT common shares. Those 200 million comprise 6.1% of the company's outstanding stock, according to the filing. This would peg CHIT's outstanding common shares as of the end of 2015 at somewhere around 3,000,000,000 or 3 BILLION.
Going from 58 million to 3 billion over the span of five months and diluting your retail shareholders some 5000% could be enough of a feat to scare most anyone away from the stock.
The fact that CHIT's latest balance sheet is deplorable does not help either. Here is what the company reported in its annual for the year ended Aug 2015:
$16 thousand in cash
$19 thousand in total company assets
ZERO in annual revenues
$915 thousand in annual net loss
The summation of the above should shed some light on why CHIT remained locked in sub-pennies for months on end and eventually slid to rock bottom at $0.0001.