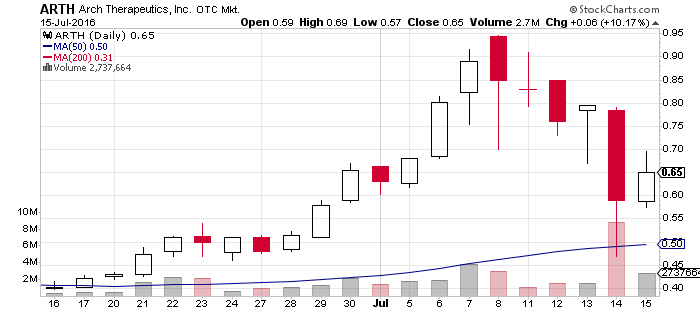 Judging by the way things were going, it seemed that Arch Therapeutics Inc. (OTCBB:ARTH, ARTH message board) would end up losing all the gains afforded by its latest surge. With this in mind, the fact that it managed to close Friday's session in the green seems pretty encouraging. But is it really?
Well, let's take it from the top. The fact that ARTH completed patient enrollment in its first clinical study to assess the safety and performance of the AC5 Surgical Hemostatic Device in humans is certainly something that the company has going for it. It proves that it is not just your regular idle OTC Markets pharmaceutical underachiever.
Not that you'd be able to tell that it's not, if you looked at just its financials. They are just as depressing as those as many others in the branch:
cash - $1.67 million
total current assets - $1.76 million
total current liabilities - $399 thousand
NO REVENUES
net loss - $1.25 million
Additionally, just like most other companies in the branch, ARTH is suffering from a bad case of toxic funding.
Suffice it to say that in order to get as far as it has, the company has had to spend a lot of cash on research. That cash didn't just fall into ARTH's pockets by accident – its operating funds were acquired by means of issuing copious amounts of warrants for the purchase of common stock at fixed prices.
Such practices are always a double edged sword on the OTC Markets, where bursts of volatility can push prices way up the charts in a matter of sessions – which is why investors need to always keep an eye out for them. Case in point – as a result of such warrants, ARTH has had to issue 2.6 million shares at a rate of $0.20 between April 1 and April 27. During that same period, another 2.4 million shares were issued at fixed rates of $0.25, and as if to add insult to injury – a further 727 thousand shares were issued for no cash at all.
And if you think that's depressing, we wholeheartedly advise you to take a closer look at the company's latest prospectus.
In summary – ARTH may be further up the road to commercial success than others in its branch, but said road is long and riddled with pitfalls that could cost investor value dearly. Let the buyer beware.