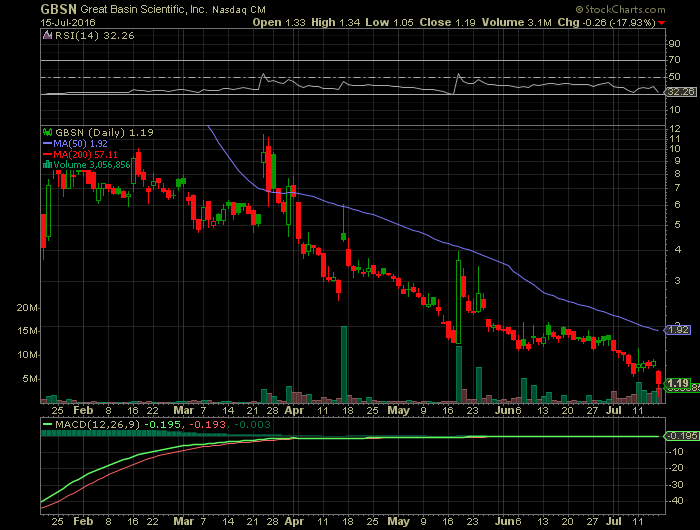 The shares of Great basin Scientific Inc (NASDAQ:GBSN, GBSN message board) were among the biggest losers on Friday. By the end of the session, GBSN dropped an alarming 18% to close at $1.19 per share, hitting a new 52-week low. With just over 3 million shares changing hands, GBSN scored a daily turnover twice as high as compared to the 30-day average trading volume. What caused this drop, though?
A day earlier, the molecular diagnostics company published a few preliminary figures from its forthcoming Q2 2016 report. To the delight of GBSN's supporters, the company revealed a nice 38.7% year-over-year revenue growth, as well as the inclusion of 38 new laboratories into its customer list, more than double the number of new customers gained in the corresponding quarter of the year prior.
So far, so good. And it had every chance of remaining so good but it did not because the stock plunged heavily and it plunged heavily because GBSN announced, alongside all these positive developments, a new convertible note financing to the amount of $75 million. And while additional financing is more or less required to grow the business and that is what the company will supposedly use the proceeds for, this form of equity financing is generally known to substantially increase the risk of dilution. And if there is one thing a current stakeholder would want to avoid at any cost, it is having to witness their stake getting shrink-wrapped and their potential earnings per share following suit.
In this respect, it is no wonder why some of Great Basin's stockholders jumped ship on Friday. They might return on condition that the company's management succeeds in utilizing the fresh capital wisely and by saying that we actually mean broadening the customer database, optimizing both the top and bottom line, and, of course, increasing value a.s.a.p.
Roughly an hour into today's session, GBSN has already sunk an additional 7% to $1.11 per share, thus facing the prospect of hitting yet another 12-month bottom by market close. Unless CEO Ryan Ashton and fellow managers find a way to stop the free-fall in the meantime, that is.