Dentacoin with it's DCN token is a blockchain which is based on the Ethereum platform, with it's smart contracts technology. The platform has the mission to revolutionize how the dental community is supported via the creation of smart applications that solve problems in the dental care which can lead to improvement in the dental world on a global scale. Following massive skepticism at first by crypto investors and experts, Dentacoin was first believed to be one of those Shady ICOs. Hwoever, after it's ICO sale launched, the accusations of Dentacoin quickly vanished, following several clinics which initiated collaborations with the foundation. And the company has crushed the accusations in a post on their blog where they have addressed all the accusations, stating facts. The question however still remains – Is Dentacoin an underdog and will it's idea hit the mainstream and boost DCN token's price to the moon?
DCN Token – Recent Performance Analysis
DCN has seen a 36,46% price increase to it's current price level of $0,001333 USD. This increase and the recent 24h volume of 5 551 100 USD confirms the recent uptrend of this token which has been happening since mid-april: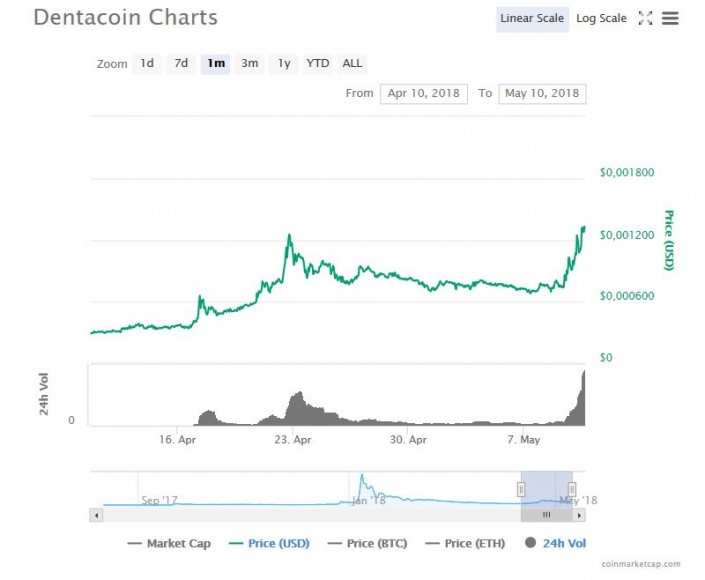 And when we zoom out of the picture and remember the first boost in price to DCN's all-time high of 0,007133 in a staggering 52 million 24-hour volume, wich is a lot, especially when we consider the enormous circulating supply of around 325 billion and 226 million DCN tokens which are currently in circulation out of a maximum supply of 8 trillion DCNs out there.
Dentacoin – Mission, Vision and Purpose
The Dentacoin Foundation has one purpose in mind and it is clear – to improve the quality of how dental care is handled worldwide, which reducing treatment costs and creating a new cyber-dental community. The DCN token is the mean to do that and it was created to assist the foundation by transferring the power to, well, the people of course.
The project of the Dentacoin Foundation is at 4 stages of creation:
1 - Building the platform and gatting pationets to trust it by having access to an updated market data and qualified feedback system by patients for patients.
2 – Creating a mobile app and DentaVox platform for opinions which can help build long-term relationships and habits via programs and environment that gives the prerequisites for that.
3 – Creating Dental Assurance Concept where the feedback is managed and put through value-creating solutions to refine and improve dental care quality.
4 – Implementing the project into a health care database that is supported by the blockcain itself which could enable a secure and a lifetime medical support, available to all patients and healthcare providers.
According to what Dentacoin have stated on their site, they are about to launch a new token sale, sometime during the Autumn of 2018. This sale goes for the support of the project and it's further development by creating marketing research platform and platform of partners that can help them intercommunicate globally.
This plus the fact that Dentacoin was recently added to the Changelly platform do mean that this token is headed up in price, but with this large of a Market cap, it has to be really impressive to grow sufficiently and boost it's unstable price to a point where Dentacoin will remain to stay and be used in the real world. Either way, it may be one of those underdogs which can really surprise contributors, investors and enthusiasts alike, but be careful if you have interest in DCN, because just like any other crypto it remains to be a volatile investment object, despite the fact that it does look promising. And never invest more than what you can afford to lose.