OriginTrail (TRAC token) is the first purpose-built protocol for supply chain which is based on the blockchain. Hence, TRAC is a utility token that facilitates data operations on the OriginTrail Decentralized Network.
What are the functions of the TRAC token?
Incentive for nodes for performing;
Discovering and connecting functionalities;
Carrying out supply chain consensus checks;
Carrying out data quality checks;
Carrying out data replication checks;
Taking care of data storage and management;
Filtering and delivering supply chain data;
Giving voting rights for token holders (which will be available on the next pilot projects).
TRAC Token Market Performance
A single TRAC token can now be purchased for $0.326645 USD on cryptocurrency exchanges such as Kucoin, IDEX, HitBTC, EtherDelta, and CoinFalcon. The token has been trading 10.81% higher than the USD. Its market capitalization is $87,623,825 USD, with a circulating supply of 268,253,992 TRAC and a total supply of 500,000,000 TRAC. The current value of TRAC is lower than its all-time-high value of $0.45 USG registered in January, 2018. Nonetheless, the token has been performing somewhat steadily during the past week, with a slight but steady increase.
More about OriginTrail
OriginTrail's concept is allowing IT providers in supply chains to set up blockchain-supported data sharing in multi-organizational environment, the whitepaper explains.
This should help build transparency and should improve the integrity of product data as well as the efficiency for stakeholders. The first version of OriginTrail is currently deployed in the food industry. However, the forthcoming version which is open-source will be suitable to any product supply chain, be it automotive, consumer goods, or pharmaceuticals.
What is the vision of OriginTrail?
OriginTrail's purpose is to improve the "verylimitedabilitytoshare data along the entire supply chain". The platform deals with the current transparency issues by providing a decentralized protocol which is tailor made for sharing supply chain data and is based on the blockchain.
This solution bringsa "profoundly new way of building transparency in supply chains". With the help of blockchain, OriginTrail is aiming to build on well-established industry standards from GS1 (a not-for-profit organisation that develops and maintains global standards for business communication). The platform is also seeking to provide the necessary foundation to build new value-increased trust, optimized supply chain efficiencies, automated compliance, and introducing quality assurance processes
OriginTrail isn't a company, the whitepaper notes, but an ecosystem which is based on token economy, with direct relations between users and network nodes. The platform is free of arbitrary fees. Contribution
ToOriginTrailecosystem serves as a guarantee towards "more transparent, collaborative, fair and trusted supply chains".
How is OriginTrail different than similar decentralized solutions?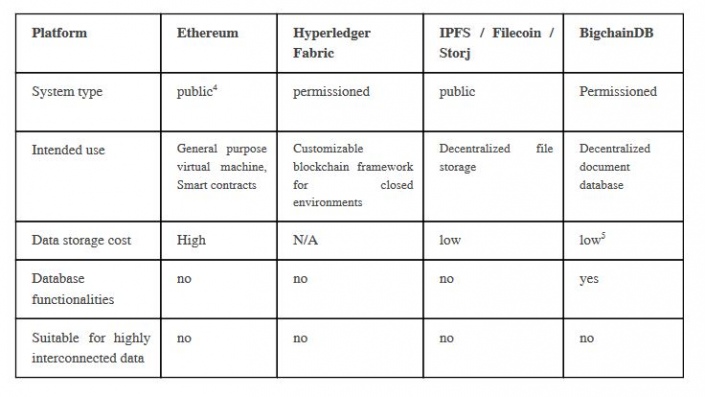 Storj, for example, is great for decentralized storage of documents but it fails to provide the features for advanced search, cumulative analysis and flexibility in dealing with interconnected data. Ethereum, IOTA, Hyperledger and Fabric are also not intended for such data storage and manipulation, and are more expensive than traditional database solutions. BigchainDB does provide database functionalities but has a different intended use.
OriginTrail's concept is to deal with the current shortcomings of similar decentralized solutions by building transparency in tracking, and protecting brands from fraudulent behavior. OriginTrail protocol enables the exchange of various data sets between multi-organization supply chains while ensuring the data quality and integrity.